Lynn Cameron Machinery Mile

The Lynn Cameron Machinery Mile hosts a range of equipment from standing engines to earthmoving machinery. A wonderful display of machinery, some of it very rare and almost all collected within 100 miles of the town, can be seen.Visitors can expect to see many forms of old machinery, including a 1917 Ruston Proctor Tractor (only two more of this model left in the world), Steam Devil, a big Excavator driven by three horse powered steam engine, which runs along one railway line. Made in 1880 and sold in 1882, it would be safe to say this excavator is the only remaining one of its kind. There's also a 12 tonne Stuart Tank that has been converted to a dozer; the first series grader made by Caterpillar in 1935, an early 1900 Lacre Light Truck, and a 1914 Republic Truck.
Wellshot Centre

The Wellshot Centre tells the story of one of Australia's greatest sheep stations, Wellshot Station. The centre traces the history and development of the station from its early settlement, how it was formed and how people lived and worked there. Wellshot Station gained a world record in 1892 for shearing the largest number of sheep off the same property in one season – 425,000 sheep! View a 20 minute film "A Rush for Grass" which graphically displays the challenges faced by early pioneers and their fortitude in adapting to a harsh and fickle climate. In the grounds, look through an authentic shepherd's hut, and also the town's original jail cell which was built in 1901 and used for 70-plus years.
Jackson Collections

The Jackson Collections is the lifetime collections of two brothers, Hilton and Ike Jackson. Prepare to be thoroughly intrigued by the many other interesting items on display; hubcaps, buttons, drill bits, rabbit traps and scissors are just some of the quirky collections. Hilton's bottles are reputed to be one of the largest and best collections in Australia and contains over 30,000 bottles. Ike's valuable collection comprises over 120 firearms from wars and battles fought throughout the world and includes a Japanese Nambu submachine gun. There's national flags from both world wars, knives, uniforms, helmets and an absorbing assortment of thought-provoking war memorabilia.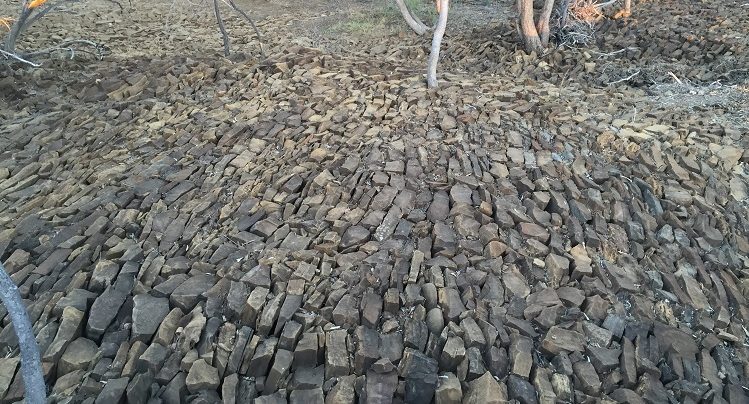 12 Mile Stone Pitching & Hotel

A a reservoir created by selecting and laying thousands of flagstones so that, in an area prone to savage droughts, a leak-proof reservoir was developed. It was built by hand around 1890 and subsequently used as a watering stop for sheep and cattle, a Cobb & Co change station, and it became so important that the Royal Mail Hotel was built to service the drovers and coach drivers.
History Precinct

The Folk Museum, a replica of an early station residence, also situated within the museum complex is Oakhampton Cottage which offers a tangible glimpse into early outback households and Romani Hall, a memorial to the young men of the district who answered 'the call to arms' and is dedicated to Australia's Light Horseman.
Artesian Spa

Feel the benefits as you soak your travel weary muscles as you step in and immerse yourself in the rejuvenating mineral waters of this artesian spa. The Artesian Spa is located in the Ilfracombe Memorial park which also has a swimming pool.

Read More
Ilfracombe Memorial Park

Located on Landsborough Highway between the Post Office and Swimming Pool. The park has shade structures throughout, BBQ area, a playground for the children, beautiful grassed area, as well as toilets and showers.
Read More
Ilfracombe Antiques & Collectables

Located in the former St Johns Anglican Church in Ilfracombe, you will find unique and bespoke items. Wide variety of antique and vintage Pottery, Porcelain, Glass, Australiana, Jewellery and furniture, showing artisans of yesteryear.
Read More
Ilfracombe Post Office's Clothing Boutique

The historical building where Ilfracombe Post Office is on the main highway through Ilfracombe. Not only does this building house the Post Office but is also the local Library, Gift Shop, Store and Clothing Boutique.
Read More
Wellshot Hotel

The pub found its permanent home in Ilfracombe in 1890, after being relocated several times by bullock and cart along the railway line to where it stands today and being named the "Wellshot Hotel". Have a look at the early photographs and many other fascinating artifacts like the unique old-time timber wool press. Learn also about the hat collection and the money on the roof. Why it's there and how it gets up there? Come in and try it yourself.
Read More
Men's Shed Markets

Guys ….. gentlemen …… young fellas ……. old mate ….. men of all ages unite! This is one great reason to let the ladies loose to spend money. Come along and support the Men's Shed. The Men's Shed Market are held the 3rd Sunday of every month along Main Street, Ilfracombe.