Longreach Caravan Park

Longreach Caravan Park has shady sites with well kept lawn for Tents, Caravans and fully self-contained budget accommodation just a short walk from the main street shops, cafes and bistros. Onsite laundry, showers and kitchen available and pets allowed on leash.
Longreach Tourist Park

Welcome to Longreach's premier tourist accommodation and caravan park with everything you need for a comfortable and leisurely stay in our fascinating town. Fully self-contained accommodation we have the perfect place for you. Here at Longreach Tourist Park we have a swimming pool, three large amenities blocks, three laundries, many free BBQ areas and a fully-equipped camp kitchens.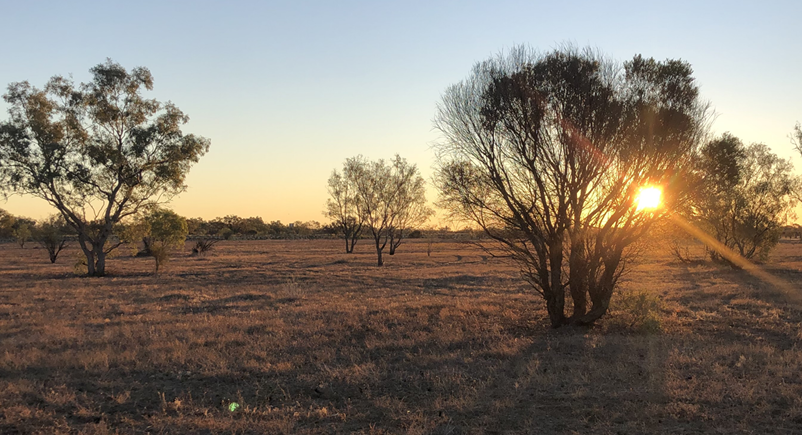 Muddy Duck Tourist Park

Longreach's newest tourist park set along the banks of the mighty Thomson River. Featuring large drive through sites and powered camping.
Apex Riverside Park Campground (Bush Camping)

Set beside the Thomson River about 4km from Longreach, this campground is more suited to the self-sufficient camper, with only a toilet block facility in the campground itself and no showers. The area is large enough for all sizes and types of vehicles, from trailers and caravans to big rigs and 5th wheelers, with plenty of space to manoeuvre. There is a picnic park with toilets, BBQ's and picnic tables, a pedestrian bridge over the Thomson River and a boat ramp where. A great place to enjoy sunrises, sunset, fishing or even a paddle in the river.
Goodberry Hills Broadwater Campground (Bush Camping)

We offer private bush camping on the banks of the Broadwater Billabong 40 Km from Longreach. Choose from eleven secluded roomy, flat campsites on the banks of the Broadwater Waterhole. Sites vary in size from suitable for up to two vehicles to those that can accommodate several. See the campsite page for descriptions of the individual sites. Please note this is a bush camping area with no facilities. The waterhole is our home water supply. Please bring a portable toilet and make sure you have plenty of drinking water.
Ilfracombe Caravan Park

Camping Sites for swags, tents, camper trailers, RV's, caravans and 5th Wheelers. All camping sites have power. This works out great for those that are tenting but want power to charge their phones, ipads etc, camper trailers that want some creature comforts and those of us that just love power for everyday things. Whatever your mode of travel, we've got a site for you. We have a range of accommodation to suit your needs from budget to top of the range cabins. Meals are available, great clean amenities, souvenirs and tourist information.
Wellshot Hotel

The pub found its permanent home in Ilfracombe in 1890, after being relocated several times by bullock and cart along the railway line to where it stands today and being named the "Wellshot Hotel". Have a look at the early photographs and many other fascinating artifacts like the unique old-time timber wool press. Budget Accommodation, Cabin and Self Contained Units available.
Read More
Golden West Hotel

Come down to the local Hotel and enjoy a meal for lunch or dinner. The hotel also has affordable accommodation and caravan park.
Read More
Oma Waterhole

This permanent waterhole is located just 16km south west of Isisford on the Isisford Yaraka River Road. It is popular for camping, fishing and water activities. Hot showers and toilet facilities are available and there is boat ramp access. Oma Waterhole is also the venue for the annual Isisford Fishing Competition.
Barcoo Weir

The Barcoo Weir is a campers delight, with the local pub, cafe and amenities within a short walk.  It is a great place for a picnic or for the bird watchers and photographers out there there are plenty of places snap that perfect pic!
Yaraka Caravan Park

The small township of Yaraka is nestled between Mesa Hills with the backdrop being the Yang Yang Ranges that offer unique and spectacular picture post card scenery a photographer's delight, even from your Caravan Site.